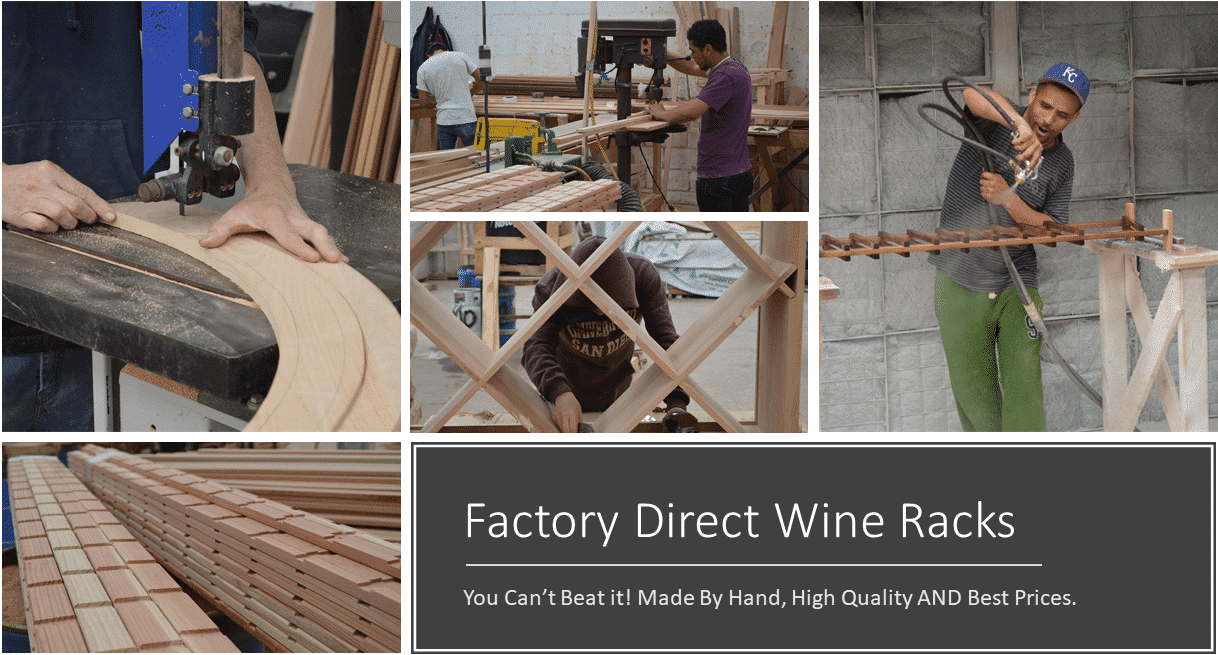 Want to build your own wine cellar but want to do it on a budget? We build high quality wine rack kits. These kits are the same quality as are made for custom wine cellars. That's because we build them. Wooden wine racks are a great way to store, protect, and showcase your wine.
Factory direct wine racks on sale. Cut out the middle man and get the best prices on discounted wine racks of all shapes, wood species, finishes and sizes.
Factory direct wine racks come as self-assembly kits. We call them semi-custom because they are all hand made to order, not mass produced. There are many standard elements, such as display rows, single bottle, diamond bin lattice, solid and so on. Pretty much any combination of elements and sizes can be combined and made.
Standard Wine Rack Design Elements
As they are all hand made to common design elements, you can order something really special and yet still only pay factory direct pricing.
If you don't not see exactly what you want, give us a call. We would be very surprised if we cannot put together exactly what you are looking for.
Create your own semi-custom wine cellar racks using a variety the design elements below:
Storage Types
Single Bottle Storage
Display Row Storage
Double Deep Storage
Split Bottle Storage
Diamond Style Storage
X-Cube Bins Style Storage
Lattice Diamond Bulk Bin Style Storage
Lattice Diamond Single Bottle Style Storage
Lattice Rectangular Bulk Bin Style Storage
Solid Diamond Bulk Bin Style Storage
Solid Rectangular Bulk Bin Style Storage
Case Racks Style Storage
Champagne/Magnum Storage
Display Types
6ft, 7ft. and 8ft Height Displays
Waterfall Displays
Quarter Round Displays Lattice
Quarter Round Displays Solid
Vertical End Displays
Other Elements
Curved Arches
Stemware Arches
Moldings

Straight Crown
Straight Toe Kick
Inside Curved Crown
Inside Curved Toe Kick
Outside Curved Crown
Outside Curved Toe Kick

Tabletops (Single Deep)
Tasting Tables (Double Deep)
Wood Species
Premium Redwood
Northwestern Pine
Malaysian Mahogany
Stains
Lacquer
Stain Colors

Wheat
Cherry
Rustic
Early American
Chestnut
Chappo
No Stain